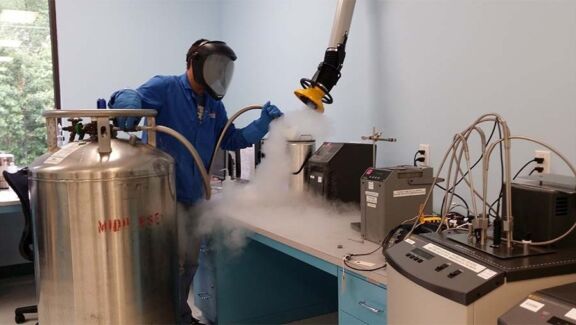 Temperature
Essco calibrates a wide range of temperature instruments. Markets include, Pharmaceutical, Life Science, Aerospace, Medical Device, General Manufacturing, Calibration Laboratory Facilities and Utility. We offer both commercial and NVLAP accredited calibrations to best suit our customers' demands.
Temperature Ranges
Temperature Calibrations for Digital Thermometers, Glass Thermometers, Thermo-couples, RTD's, PRT's, Thermistors in the range of -196°C to 1200°C.

Surface temperature generation: 33°C to 300°C.

Calibration of infrared thermometers and cameras from -15°C to 500°C.

Simulated temperatures over the full range of any thermocouple or RTD

Commercial and NVLAP accredited calibrations
Temperature Capabilities
Autoclaves

Conductivity Meters

Environmental Chambers

Freezers

Furnace calibrations

Hygrometers

Hygrothermographs

Incubators

Infrared Thermometers

Metrology Temperature Wells

Ovens

pH Meters

PRTs

Refrigerators

RTDs

Solder Systems

Temperature Baths

Temperature Blocks

Temperature Controllers

Temperature Mapping/Profile

Temperature/Humidity Data Loggers

Temperature Probes

Temperature/Relative Humidity Chart Recorders

Temperature/Relative Humidity Meters

Thermistors

Thermocouples

Thermometers

Viscometers

Accredited to ISO/IEC 17025:2017
Essco Calibration combines people, processes and equipment to consistently maintain the highest standards for quality in the industry.