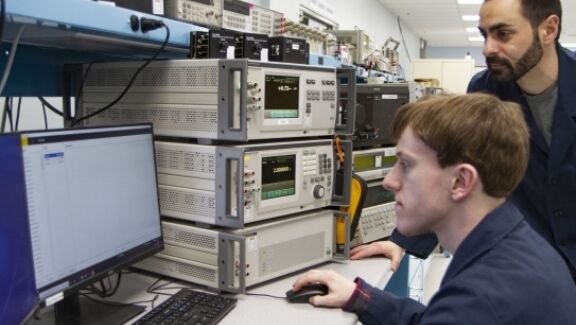 Laboratory Standards
Your laboratory standards are the basis for your organization's most accurate measurements. Essco is an extraordinarily diverse commercial laboratory serving many industries as well as other laboratories. Our capabilities far surpass those of most commercial laboratories.
Laboratory Standards Capabilities
Caliper Calibration Master

Dead Weight Testers

Force Standards

Gage Blocks

Height Gages

High Voltage Dividers

Laboratory Standards

LCR Meters

Measuring Bridges

Measuring Wires

Metrology Temperature Wells

Plain Plug & Ring Gages

Reference Multimeters

Shunts

SPRT's/PRT's/RTD's

Standard Capacitors

Standard Inductors

Standard Resistors

Super Micrometer™

Thread Set Plugs

Torque Standards

Two-Pressure Humidity Standard

Voltage Standards

Accredited to ISO/IEC 17025:2017
Essco Calibration combines people, processes and equipment to consistently maintain the highest standards for quality in the industry.