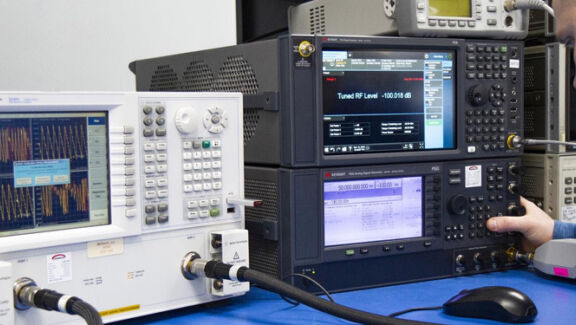 RF
Essco offers in-lab and on-site calibration services for a wide range of RF Test Equipment. Most of our RF Capabilities up to 50 GHz fall under our ISO/IEC 17025 Scope of Accreditation.
Radio Frequency
Frequency Measurement to 50 GHz

+40 dBm TO -127 dBm Power Measurement to 50 GHz

Source +20 dBm TO -110 dBm to 50 GHz

SWR Measurements to 26.5 GHz

Network Analyzer Calibrations to 50 GHz

Harmonics, Spurious, IMD, Distortion, Modulation AM, FM, ØM (Phase Noise/Side Band)
RF Capabilities
Airlines

Attenuators

Audio Analyzers

Audio Generators

Communication Test Sets

Detectors

Directional Bridges

Directional Couplers

Frequency Counters

Function Generators

Measuring receivers

Network Analyzers

Noise Figure Analyzers

Oscillators

Power Meters

Power Sensors

Power Splitters

Pulse Generators

Rubidium frequency standards

Signal Analyzers

Sitemasters

Spectrum Analyzers

Terminations

Thermistor Mounts

Waveform generators

Vector network analyzers

Accredited to ISO/IEC 17025:2017
Essco Calibration combines people, processes and equipment to consistently maintain the highest standards for quality in the industry.

Calibration Services You Can Count On
Essco is accredited to ISO/IEC 17025:2017 to ensure we consistently deliver technically valid test results and calibrations.

50+ Years
caring about your calibration needs

100,000+
calibrations each year

40+
highly-trained technicians

20
custom support specialists