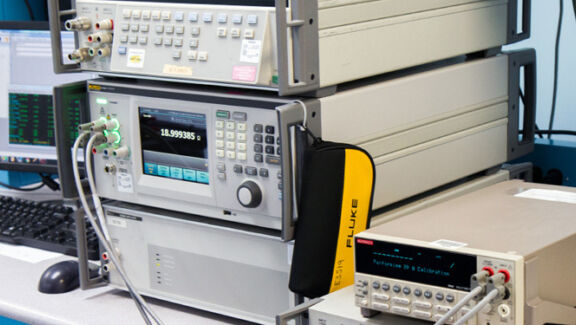 Electronic
Our trained calibration technicians provide expert calibration for all types of electronic measuring instruments. Our electronic laboratory is fully equipped to calibrate electrical/electronic instruments for DC and AC voltage, current, resistance, time and frequency.
Electronic Capabilities
Accelerometers
Ammeters
Capacitors
Clamp meters
Data acquisition units
Decade LCR Box
Digital Multimeters (DMM)
Electronic loads
ESD Floors and Mats
Gaussmeters
Ground Bond Testers
Hypots
Inductors
Ionizers
Laser diode controllers
LCR Bridge, Meters
Light Meters
Logic Analyzers
Megohmmeters
Multifunction Calibrators
Multiplexer cards
Mulitimeters
Oscilloscopes
Oscilloscope Probes
Panel Meters
pH Meters
Power supplies
Resistors
Rectifiers
Resistivity Meters
Shunts
Signal conditioners
Sound Level Meters
Sound Level calibrators
Spectrophometers
Standards (LCR)
Static Meters
Strobeoscopes
Stopwatch & Timers
Tachometers
Variable Auto Transformers
Welders
Wrist/Foot Strap Testers

Accredited to ISO/IEC 17025:2017
Essco Calibration combines people, processes and equipment to consistently maintain the highest standards for quality in the industry.