Make sure your calibration program management is always up to date and ready to use. With EsscoNet, you can.
EsscoNet — our secure, private network for calibration program management — gives you instant online access to calibration certificates, equipment status at Essco, equipment due reports, historical records and invoices. The entire database is read-only, so information cannot be changed in error.
Our sophisticated system lets you:
Set up multiple logins/passwords for various company departments.
Track your equipment any time you like by accessing real-time data.
Go paperless with your calibration program management by saving calibration certificates as PDFs.
Create and run equipment recall reports and then export them into Excel for easy sorting.
And while it has advanced capabilities, EsscoNet is designed for optimal ease of use. As a result, you'll spend less time on calibration program management and more time on your other core responsibilities.
To sign up for EsscoNet, please contact our Customer Service Department at 800-325-2201 (weekdays from 8 a.m. to 5 p.m. ET) or service@esscolab.com.
View our tutorial on EsscoNet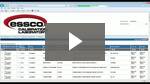 Video Feature